Important Notice: Server Outage Dec 27th

Dear Clients we apologize for the inconvenience!
Weds night we were working with our internet service provider on some routine maintenance and what was supposed to be simple and routine ended up taking down the whole site, email, faxing, The store, everything. We are profoundly sorry for this inconvenience. We are about 80% back up today. If you experience any issues please send us an email to
support@novusRx.com
. Or feel free to call us at 813-649-9300. We continue to work relentlessly to restore all systems the reliability you have come to trust these last 8 years.
Thank you!
Rx-Writer for iPad and iPhone


What your colleagues are saying:
"Can't say enough about how great this app is. Using it for over a month: saves so much time! Love having a patient's script Hx at my fingertips when out of the office. Can make informed decisions about meds no matter where I am. (e.g. Why Mrs. Smith, a one month supply of Xanax was sent to your pharmacy 10 days ago. How could you be out already?) You can tell immediately that this app was developed by a physician because it is so physician friendly and intuitive. Developer has responded promptly and thoroughly to questions. Has already incorporated multiple user suggested fine tuning changes that made an awesome app even more awesome… You won't regret subscribing to this service."
-by Atlanta Psych MD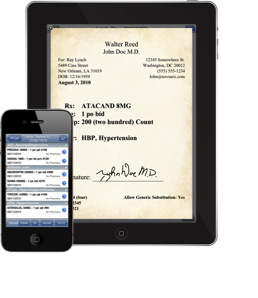 Our mission at NovusRx is to use our combined years of clinical medical practice and our computer expertise to support physician and non-physician prescribers. We do not say that lightly. When we started NovusRx, our most important goals were to reduce prescription errors and increase prescriber efficiency. By providing a faster and more productive way for you to prescribe medications, by offering effective support for your questions, and by constantly developing improvements to Rx-Writer, we continue to strive towards our goals and help you accomplish your own.