iPad ...
Getting Started Guides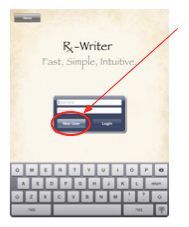 At the login screen you are going to create a new account by pressing the New User button. Rx-Writer will launch into the First Time User Wizard that will walk you through new account creation in 6 brief steps.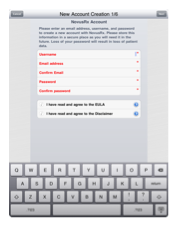 Enter user name, email address, confirm email address, password, and confirm password fields. We suggest you pick a user name and a password that you will remember. Write them down and store them in a secure location. If you lose your password, we are unable recover or reset your password for you. To ensure your security and the security of your clinical data, NovusRx does not store your password. NovusRx does not have access to your encrypted data. If you lose your password, you may lose your data and be locked out of your Rx-Writer account. We have designed very strong encryption technology to both comply with HIPAA and to provide reliable patient data security. It is important that you remember your user name and password.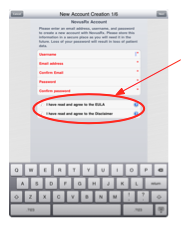 At the bottom of screen is the End User License Agreement ("EULA") and Disclaimer to which you will have to agree. Press the blue detail disclosure button review EULA and Disclaimer before continuing. The EULA and Disclaimer are unfortunately standard. You may review EULA and Disclaimer in depth at any time by visiting our web site. After agreeing to the EULA and Disclaimer, you will be taken to New Account Creation. When you have entered your user name and password select new user and Rx-Writer will take you to the next step: Prescriber Information.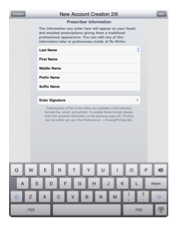 Prescriber Information:

The information you enter in Prescriber Information will appear on your printed, faxed and electronically sent prescriptions. Type your first name, last name, middle name or initial, and any prefix and/or suffix as you would like them to appear on your prescriptions.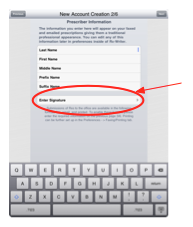 To create your signature for your Rx-Writer prescriptions, tap the Enter Signature field below. You can use your finger or a stylus. Later, you will be able edit your signature as needed within the preferences section of Rx-Writer. After you have entered your signature, tap the next button in the upper right hand corner to proceed to step three.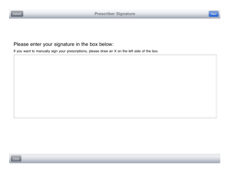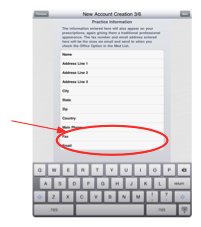 Practice Information:

Enter your Practice Information as you want it to appear on your prescriptions. This information gives your prescriptions the professional appearance of a traditional prescription. Fax number and email address entered here will be the ones used to send a copy of prescriptions to your office if desired for a chart copy or to hand to a patient. Tap Next to continue.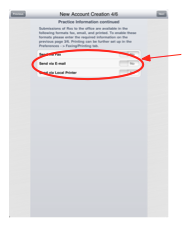 Set these switches to yes for sending a copy of your prescriptions to your office Fax, E-mail, and/or Printer. E-mail should be used only when E-mailing within a secure firewall. Tap Next in the upper right corner to continue to step five.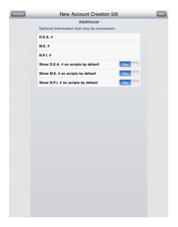 Additional Information:

Step five allows you to add your DEA#, M.E.#, N.P.I.#, and set display defaults for each. This may be edited later under preferences from within Rx-Writer. When complete, touch the next button in the upper right corner. This will take you to the final section of setup.
Pharmacy Discount Programs:
In our efforts to help patients that may be uninsured or underinsured, NovusRx offers the option of the WellDyne Pharmacy Discount Program. WellDyne Rx is a national pharmacy benefits management company and works with 58,000 retail pharmacies. By choosing "Enable" Welldyne features, Rx-Writer will print information with your prescriptions that will enable a pharmacist to provide a patient their medications at the lowest possible cost … through their existing pharmacy benefits or through WellDyne's discount pharmacy program… whichever costs less for your patient. This program will be of greatest financial benefit for your patients without prescription benefits and your patients with limited prescription benefits. After enabling (or disabling) the WellDyne discount features, you can press: Finish in the upper right hand portion of the screen.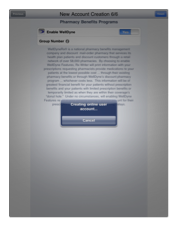 Rx-Writer will now communicate with our secure Servers at our corporate offices and create an account for you and then open your patient list. You or your staff may now begin to add your patients.