iPad ...
Getting Started Guides
Submitting Your First Prescription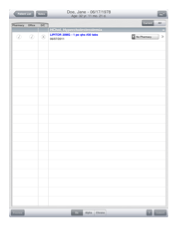 There are two methods/destinations to submit your completed script. The first is locally, using the information and methods you entered under "Practice Information" during setup.

The second method/destination is to send the script directly to a pharmacy. Notice the words "No Pharmacy" underneath the medication indicating that there is currently no pharmacy associated with this medication. To associate a pharmacy, press the detail disclosure button on the right to bring up the pharmacy selection Popover.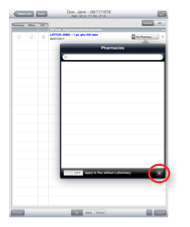 Since this is the first script you've written, the pharmacy list will be be blank, so add pharmacy by pressing the '+' in the bottom right of the screen.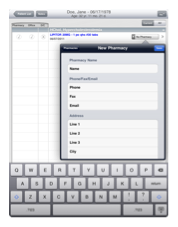 The required fields are Pharmacy Name, Fax, and Email. Scroll down to see the submission methods.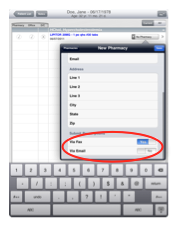 The switches should already be checked that correspond with the fields you filled above. Press "Save" in the upper right to save the new pharmacy and return to the pharmacy selection screen.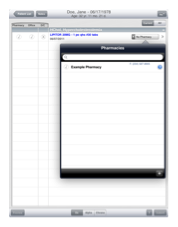 Tap the newly entered pharmacy to associate it with your prescription and return to the MedList.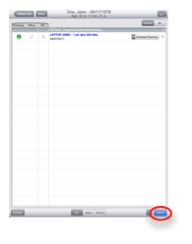 Notice that the check in the "Pharm" column is now filled and that underneath the medication is the associated pharmacy name. Press submit to send the prescription to the pharmacy. Note: Pharmacy and Office methods/destinations of submission may be used simultaneously.